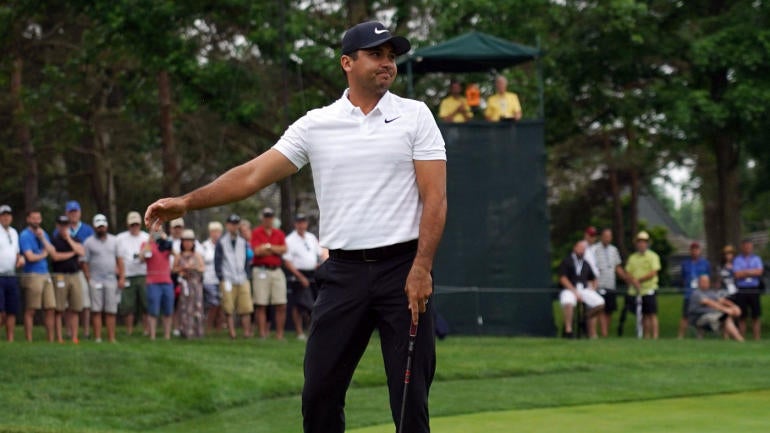 Kyle Stanley leads the Memorial Tournament at 11 under following his 67-66 start at Muirfield Village this week. He made just one bogey on each side of the course in Round 2 but more than made up for it with eight total birdies, and now he co-leads with young Joaquin Niemann (more on him in a bit) and is up at least two on everybody else in the field.
Stanley is top five in the field thus far in strokes gained from tee to green, and he's putting exceptionally well (especially for him). When he's in the top 25 in putting like he is this week, it usually means he's contending for a win.
Speaking of wins, Stanley has just two of them, although he's having a really solid season so far in 2017-18 with three top 10s and eight top 25s. Stanley's victories came at the 2012 Phoenix Open and last year's Quicken Loans National, so this would be by far the biggest victory of his career on the PGA Tour.
There's a long way to go (obviously), but Stanley has a nice jump start on getting to the Sunday finish line. His Saturday tee time with Niemann is going to be fascinating as they're two of the more interesting ball-strikers on Tour. I can't wait to see how both respond under pressure over the final 36 with studs like Jason Day, Justin Rose and Dustin Johnson bearing down on them.
Here are a few other takeaways from Round 2 at the Memorial.
1. Stars bounce back: Following a tough Round 1 in which most of the top-10 players in the world either stalled or downright played terribly, most bounced back nicely in the second round.
Rory McIlroy: Round 1 (74) | Round 2 (70)
Dustin Johnson: Round 1 (72) | Round 2 (66)
Jordan Spieth: Round 1 (75) | Round 2 (72)
Rickie Fowler: Round 1 (72) | Round 2 (69)
Phil Mickelson: Round 1 (74) | Round 2 (66)
Justin Thomas: Round 1 (72) | Round 2 (69)
Tiger Woods: Round 1 (72) | Round 2 (67)
That group was a collective 32 (!) strokes better in Round 2 than in Round 1, and the charge was led by Lefty, who shot 30 on his back nine on Friday. A 30! That's big for him both for this week and for the next few as he has the FedEx St. Jude Classic next week followed by the always-elusive U.S. Open, which he needs for the career grand slam.
2. Jason Day again? One star who did not struggle in the first or second round is Jason Day. The Australian followed his 4-under 68 on Thursday with another one on Friday, and he's just three back of Stanley's lead. His normally illustrious putter failed him a bit on Friday as he lost strokes to the field, but he filled in for that flat stick with a tee-to-green performance that was top 10 in the field. If the putts fall on the weekend, it's probably curtains for this field.
3. The ball-striking is very good: A cursory look at the top of this leaderboard reveals what we already knew: Muirfield Village is a ball-striker's paradise. According to the data, approach shots are 4 percent more important at this course than on the average PGA Tour course, and a top 10 consisting of the following players confirms this.
Kyle Stanley
Ben An
Hideki Matsuyama
Bryson DeChambeau
Justin Rose
Henrik Stenson
Patrick Cantlay
Those might not be household names to you, but they are all ball-striking wonders to me, and it's exciting to have such a locked-in crew vying for this championship.
4. Young stars are here for it: Age is just a number on the PGA Tour as we saw with 21-year-old Aaron Wise's first win two weeks ago. Beau Hossler, 23, and Joaquin Niemann, 19, are out to prove that again this week as they both take swipes at the lead of a big boy tournament like this one. Hossler is 7 under after two rounds and has made his ninth straight cut but only has one top 10 in that time period. He's in a great position for another one this week. He's also in great position for a little #TourSauce of the week after this filthy walking club twirl in Round 2.
Niemann is 11 under (!), tied for the lead and looking for his third top 10 in his last five events since turning pro. Again … he's 19. He sure doesn't play like it, though. The Chilean is top 15 in both strokes gained on approach shots and strokes gained with his putter. If he keeps that up all week, he'll usurp Jordan Spieth as the youngest PGA Tour winner in the last eight and a half decades. Let that sink in.
Onto a really intriguing weekend with two former junior phenoms in Stanley and Niemann leading the way.
CBS Sports was with you the entire way Friday with scores, highlights and analysis from Round 2 at the Memorial. You can view the analysis below. If you are unable to view the live updates below, please click here.
Thanks for stopping by.
on Yahoo! Sports – News, Scores, Standings, Rumors, Fantasy Games