Music from Chinese-Canadian artist Kris Wu sold on iTunes will not count towards its ranking in charts compiled by Billboard and Nielsen, after allegations the sales were made by users in China rather than within the United States.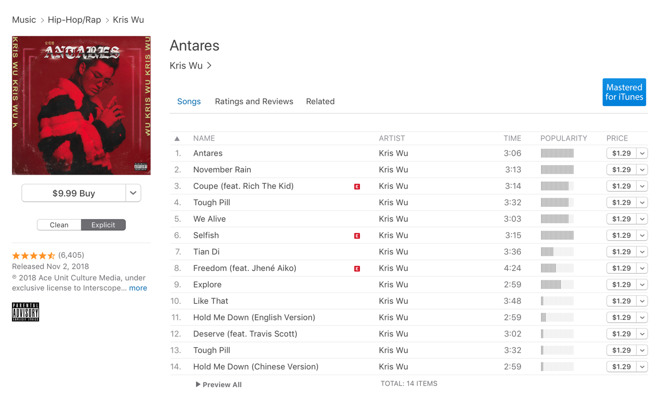 The iTunes U.S. Store chart was inundated by tracks from Wu on Monday, with four Wu songs in the top five accompanied by Ariana Grande's "Thank U, Next." The high sales were unusual to industry followers, as Wu is relatively unknown in the United States, making the iTunes dominance extremely unlikely to accomplish by normal means.
According to a source of Variety, the songs from Wu's "Antares" album were classed as being acquired fraudulently, and would not be counted towards any iTunes sales chart data reported to Nielsen and disseminated by Billboard. The decision to "suppress those sales numbers" took place on Wednesday afternoon, following a pattern of high-volume purchases on iTunes of the explicit version of the album, followed by the clean version.
The theory behind the chart success is seemingly less to do with direct manipulation of the chart, more that of supply and demand.
Wu is well known in China, and the album was held back in that market until November 6, rather than the usual global release on a Friday. While it was held back in China, the album was already out in the United States on iTunes, released by Interscope Records on November 2, giving fans an opportunity to get the album ahead of the regional release simply by acquiring it through the U.S. version of the iTunes store.
Industry observers also noted Wu's tracks were not streaming enough to match what would usually accompany high track sales, making it another clue that the purchases were an anomaly.
"Billboard and Nielsen Music are working closely to ensure both the accuracy and legitimacy of the sales volumes being reported for Kris Wu this week," a statement from Nielsen advises. "As we do with all reports when irregularities are noticed during the normal weekly validation process, we work closely with our partners to address the issue, which may result in excluding any irregular or excessive sales patterns, prior to charts being finalized.
Chart services around the world have been changing the way they calculate the popularity of music following the introduction of streaming services like Apple Music. Rule changes made to the Billboard 200 album chart in July gave paid streaming services more weight compared to free and ad-supported services.
In September, Apple rolled out "Daily Top 100" charts, with 116 separate charts representing each country Apple Music is available to use. </span>
Let's block ads! (Why?)